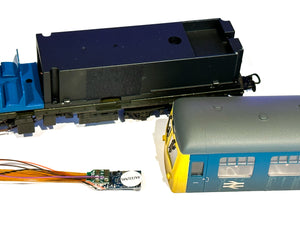 Bachmann 105 'Cravens' Sound Fitting
We fitted sound and a stay alive to this Bachmann 105
Start by prising off the body with a prising tool.
The Loksound 5 micro decoder fits neatly into the space provided, take care not to trap or kink the ribbon cable.
The Train-o-matic SPP stay alive fits in the space behind the motor.
A 26x14x7 speaker sits neatly behind the last row of seats and is well hidden once the body is back on.
The dummy end also needs a decoder, any 8 pin decoder will do as it's only to operate the lights. The body comes off in the same way.
Find the sound decoder here.
---