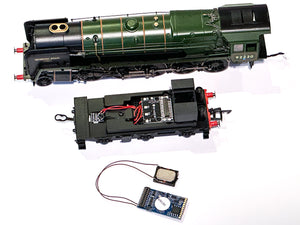 Sound Fitting The New Hornby 9F
The new Hornby 9F is easy to fit with sound using our kit which comes with a self adhesive 15x11 speaker to fit the built in enclosure. Start by removing the tender top, just the two screws at the back need to come out.
Peel off the white piece of paper from the speaker to reveal the self adhesive gasket.
Push the speaker down onto the enclosure, don't push too hard or you could damage the speaker, just enough for it to stick in place.
twist the speaker wires to make sure they stay out of the way of the body and you're done. Find the sound decoder here and various other useful tools and materials here.
---