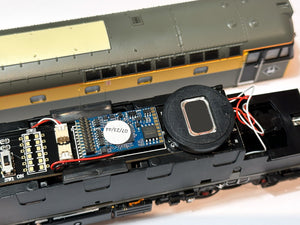 Sound Fitting The Latest 21 Pin Class 33 'Slim Jim'
Quite a few people have already asked if my other class 33 fitting guide applies to the 'slim Jim' version, I wasn't sure so I ordered one to try. Start by prising off the body, its a very tight fit, and doesn't come off as easily as other class 33 models
Its largely the same as fitting sound to the other class 33 models, but the model is now 21 pin.
Theres space for a speaker on top of the pcb, it doesn't have to sit right at the end like it does on the recent 8 pin ones.
There would also be space for a Train-o-matic SPP-N stay allive if needed.
Find the decoder here.
---