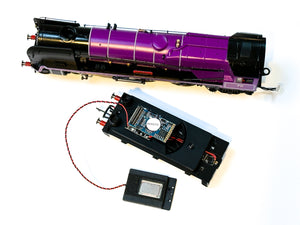 Sound Fitting The Hornby Queen Elizabeth II
I've received my stunning Hornby model of 'Elizabeth II' in its platinum jubilee purple livery. I put sound in it this evening, I had expected a 27mm bass enhanced speaker to go under the weight but it was too thick by about 2mm so I chose one of the 35x24x3 tablet speakers instead.
First you need to take the 2 screws out of the back of the tender, and lift it from the back to release the clips from the front.
The speaker can either be connected to the speaker pads on the models PCB or they can be connected to the brown wires on the decoder. 
Use a small piece of black tack to hold the speaker into the shell of the tender facing downwards.
When replacing the body take care not to trap any wires. The wire also wants to be kept away from the silver surface of the speaker.
Find the decoder on our website here. You can find a suitable screwdriver and black tack on our accessories page.
---