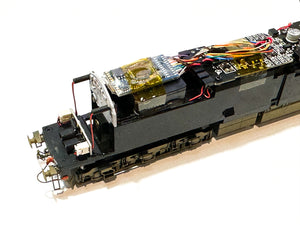 Hornby Class 50 Sound Fitting
Before unclipping the body, make sure you remove the jumper cabels or they will be damaged.
There is enough space at the non fan end to fit a 25x25x7 megabass speaker and it acts as a nice base to place the decoder.
If your loco has a 12 pin blanking plug, you just use the 8 pins that are grouped together and leave the 4 spare pins empty.
See a video of it here:
Find the sound decoder on our website here.
---