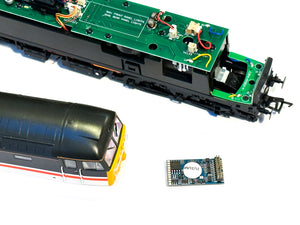 Fitting Sound To The Latest Bachmann Class 47
The latest Bachmann class 47's come with a pair of speakers pre fitted which which make a DCC sound installation easy. 
The speakers are pretty good, one of them is a megabass with a plastic cover to form an enclosure.
The plux22 decoder simply pushes into the holes on the PCB once the blanking plug is removed.
The plux22 decoders are set up to work all the lighting functions of the new 47 as well as the working fan if fitted. You can choose from Legomanbiffo or Jamie Goodman sound for this model. Find the 47/0 sound here and the sound for locos numbered 47400 and above here. A magnetic tip screwdriver makes it easier to remove and re fit the screws, find it here.
---