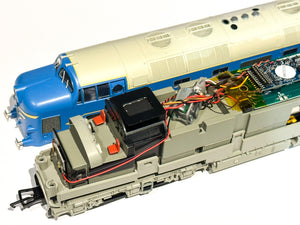 Fitting Sound To The Bachmann DP1
We had this fantastic Bachmann DP1 in for sound fitting. It has been fitted with a megabass speaker at each end and a stay alive.
Start by removing 8 screws, we recommend using one of our magnetic tip screwdrivers.
The speakers fit at each end behind the cabs. Use black tack to hold them in place.
This model was also fitted with a stay alive, we used a Train-o-matic SPP.
Find the decoder and speakers here.
---