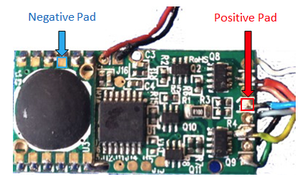 Fitting A Stay Alive To Hornby TTS Decoders
A lot of people have asked how to fit stay alive's to a Hornby TTS decoder. There are some fairly large solder pads to connect the stay alive to so it's easier than you might think if you are experienced with soldering, but as this isn't a Hornby approved modification you would probably lose your warranty on the decoder.
You need a 2 wire stay alive, the positive wire (usually blue) connects to the same solder pad as the blue common positive wire for functions, the negative wire (usually black) connects to the 4th pad along the side of the decoder as shown in the diagram below
You also need to make sure DC running is disabled in CV29 to prevent the loco running away, The Hornby TTS manual explains how to do this.
Find our range of stay alive's here and remember to use an 8 ohm speaker if upgrading that at the same time.
---