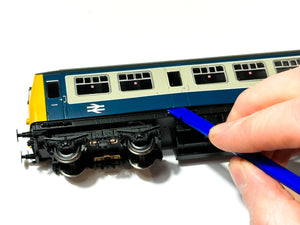 Bachmann 101 Sound Fitting Guide
We fitted sound to this excellent Bachmann 101 model.
Start by removing the 4 screws from the powered coach, there are two at each end.
Next use a prising tool to help release the clips and pull the body away from the chassis.
We like the 30x17x4mm speaker for DMU's. There's a section of the seating which you can remove and it reveals an opening in the floor to position the speaker over. To access it remove the clips from that hold the PCB and lift it off.
Once fitted, re fit the PCB and clips.
We had a slight rattle from the model, putting a small blob of black tack under the clips stopped it.
Find the sound decoder here.
---