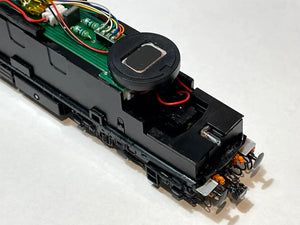 27mm Round Bass Enhanced Speaker In The Heljan Class 33
Most people when ordering the class 33 decoder choose the 27mm round speaker, this is easy to fit and gives great sound. You will probably need to snip off a little bit of the metal that protrudes from the PCB to give a flat area to stick the speaker.
Once the area is flat you can stick the speaker down with black tack. Placing it at this end of the model means it doesn't get in the way of the block which hangs down inside the body on some recent 33 models.
Find the sound decoder and speaker here.
---